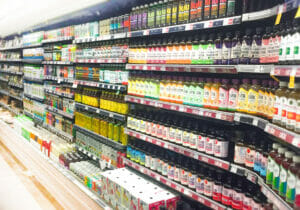 In the highly competitive world of natural and specialty food and beverage, gaining and maintaining a healthy shelf presence is essential. With shelf sets frequently shifting, and multiple brands competing for space, below are the three keys to success to attain proper shelf space, gain incremental placements, and keep them both well serviced and well maintained.
1.) Store Level Relationships
It is imperative to develop good relationships with store level buyers and management. In order to achieve this, consistency is key. Very little will get executed properly unless weekly or bi-weekly visits are in place from your in house or outsourced sales and merchandising team. If managers and buyers know they won't see a rep again for a while they are much more likely to forget to execute the action discussed on the visit. The squeaky wheel gets the grease. The same rep visiting the same set of accounts each week is a must. Without this structure, store buyers and managers will often forget to follow through with the brand plan discussed. When approaching managers be sure to be polite and respectful of their time. Discuss the action, then be sure to follow up the next week or week after. If the task discussed the week before has not been accomplished it certainly has a much better opportunity on the second visit. Consistently scheduled visits are the only way to secure the best shelf presence, gain incremental space, and introduce new SKUs to your set.
2.) Strategic Planning
In order to achieve your shelf presence goals, you need a plan in place before approaching your store level buyers and managers. Walk the store first and look for opportunities before approaching your manager. In the aisle, if the store has flexibility for shelf placement, always look in the 'eye to thigh' area in the shelf set to ask for placement. If another brand has multiple facings of the same flavor this is an opportunity to ask to reduce those facings to make room for your brand. When seeking off shelf opportunities for placement, scan the store for opportunities. Snack brands can benefit from incremental clip strips. In this case, look for open areas within your category's aisle. Other areas for clip strips are by the front registers or on the side of an aisle end cap. If you have floor racks for your brand, look for spots that won't take up much space. High traffic locations are always a plus. For ambient beverages ask for end cap shelves that have not been allocated to another brand yet. The grab and go coolers by the deli, coffee bar, or registers are good opportunities for refrigerated beverages. The key is to have a plan in place before approaching your manager and to provide them with several options to choose from. There will always be a push and pull when negotiating for primary and secondary space so having a strategic plan with several options is imperative when negotiating with store level management.
3.) Supply Help
Filling up shelves and 'packing out' is the best way to make friends quickly with store buyers and managers. This will often help you get your shelf presence goals accomplished. Please note that it is important to check with store management first to make sure you can fill your shelf with back stock inventory. Some stores may require a customer service check in before allowing store level work. Having a name badge issued by customer service to show store employees you are a vendor can facilitate back room access.
When you check your brand on shelf make notes of the flavors that are low. After this go to the back room back stock location to retrieve any cases of low flavors. Pull them and place them in a cart, u-boat, or shopping carriage. Go back to your aisle and fill up your shelf. By 'packing out' you not only quickly get your own shelf looking full and great but your in store buyers and managers will appreciate and recognize the effort. It will give you excellent standing with store level buyers and management. Packing out is a great, consistent action that should not be taken for granted when building strong relationships at store level. In the long run it will help you attain your goals when seeking the best primary and secondary locations that your brand needs at store level.
These three sales and merchandising best practices will not only help you gain and maintain excellent brand presence, but they will ultimately help grow and establish your relationships with in store buyer and managers. These are the essential keys to shelf presence success. Ground Up Group services numerous natural specialty chain banners and independent accounts in New York City, Southern California, Boston, and their respective surrounding areas.